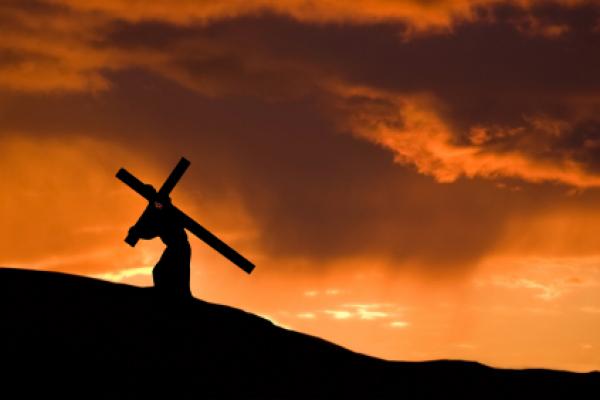 "(3) Praise be to God and Father of our Lord Jesus Christ, who blessed us in the heavenly realms with every spiritual blessing. (4) For he chose us in him before the creation of the world to be holy and blameless in his sight. (5) In love he predestined us for adoption to sonship through Jesus Christ, in accordance with his pleasure and will. (6) To the praise of his glorious grace, which he has freely given us in the One he loves.
When I first went on my Church's Fall Retreat last year, I walked into that weekend not feeling loved or accepted. I felt like a big waste of space to everyone there - I was even considering leaving halfway through the weekend so I wouldn't have to be there at all. I just wanted to go back home, sit there, and sulk more and more in my sin and the doubts that I had been having about God. But by worship time on Saturday night, I truly felt the overwhelming weight of how much God actually loved me more than anyone else ever could. I was feeling all sorts of amazing emotions during that worship night, including for the first time in forever actually feeling like I belonged somewhere! I felt accepted for who I truly am. I walked into that weekend feeling broken and ashamed of my life, and then it was like a switch flipped inside of me. During that worship session, walls broke down and I actually felt loved for the first time. By the end of that eventful night all those emotions I had about not being welcomed or accepted period at SoZo were whisked away completely.
God was willing to adopt us into his family and He so desperately longs to have a personal relationship with us. Even when we were God's foes and turned our backs on Him. He still longs so deeply for our return back to Him. For example, in Luke chapter 15|19-22, In the story of the prodigal son it reads,
"(19) I am no longer worthy to be called your son; make me like one of your hired servants, (20) so he got up and went to his father. But while he was still a long way off, his father saw him and was filled with compassion for him; he ran to his son, threw his arms around him and kissed him. (21) The son said to him, 'Father I have sinned against heaven and against you. I am no longer worthy to be called your son.' (22) But the father said to the servants, 'Quick! Bring the best robe and put it on him. Put a ring on his finger and sandals on his feet."
When we start to stray away from God and start idolizing false prophets it breaks God's heart horrendously that we are starting to choose to follow someone of this world and not following the Maker of Heaven and earth. God's love is so incredibly strong and powerful that when we're away from Him, He will break down every single wall or mountain that you have in your life. He will do anything to reach your rock-solid heart and just crush you from the inside out. His love chases us down even when we don't deserve it. Even when we've sinned against God, he'll light up all the darkness in your life and bring it into the light. He's willing to stick his arm out for you to be saved. As a point of reference, in the book of Luke in chapter 15|4-8:
"(4) If a man has a hundred sheep and one of them gets lost, what will he do? Won't he leave the ninety-nine others in the wilderness and go to search for the one that is lost until he finds it? (5) And when he has found it, he will joyfully care it home on his shoulders. (6) When he arrives, he will call together his friends and neighbors saying, 'Rejoice with me because I have found my lost sheep,' (7) In the same way, there is more joy in heaven over one lost sinner who repents and returns to God than over the ninety-nine others who are righteous and haven't strayed away!"
In this instance we are like the lost sheep in the wilderness and God is our shepherd. He's willing to leave his entire flock possibly to devoured by wolves or predators just to go after one lost sheep and bring him home. That's more worth it to God than anything else in this entire world just for someone to return to him and rejoin the flock. The amazing part to this is all that God is willing to leave everyone else behind to chase down just one person. No friendship on earth can ever be like God's because His love is just so strong and unrelenting. Also just knowing that God is willing to leave everyone else behind to chase after you is just so mind blowing to me and that just makes me love God so much more. The Reason why I chose to touch on this topic that God's love is unlike any earthly relationship we can ever have, we can all these great friendships on earth but never have any meaning or purpose to the friendships. But just knowing deep down inside that you have a deep and everlasting relationship with God the father is life-changing. God loved us with all our messes and sin and is still willing to choose to have a personal relationship with us even though we're messed up, sinful people. When we're crazy about a girlfriend or boyfriend we go absolutely head over heels for her or him. That's exactly how we need to be with God. We have to be absolutely crazy about God's unfailing love for us just like we're crazy about dating someone.
Another thing is that God was willing to be whipped and beaten to death on the Cross and that's a prime example of how much God's love is for us. Another way God's love is shown to us through the Bible is in Galatians 4|4-8 which states:
"(4) But when the set time had fully come, God sent his Son, born of a woman, born under the law, (5) to redeem those under law, that we might receive adoption to sonship. (6) because you are his sons, God sent the Spirit of His son into our hearts, the Spirit who calls out, "Abba, Father" (7) so you are no longer a slave, but God's child; and since you are his child, God also made you an heir. (8) Formerly, when you did not know God, you were slaves to those who by nature are not god's."
What this verse is saying is that God sent his one and only son into this messed up sinful world to save anyone who is willing to listen to God's word of affirmations and his truth.
Once you've realized God's truly unfailing love He has for you and once you learn to accept His Love, your life will be transformed into living for God purpose. He has called you by name and created you uniquely when He crafted this world. As stated in Matthew 10|28-32:
"(28) Do not be afraid of those who kill the body but cannot kill the soul. Rather, be afraid of the One who can destroy both the soul and body in hell. (29) Are not to sparrows sold for a penny? Yet not one of them will fall to the ground outside your father's care. (30) And even the very hairs of your head are all numbered. (31) So, don't be afraid; you are worthy more than many sparrows. (32) Whoever acknowledges me before others, I will also acknowledge before my Father in Heaven."
God called you out by name and chose you to be a light for his kingdom. That's just incredible to think and process that God was willing to take time perfectly crafting you in his image. God's given us the right to be called "Children of God". We don't deserve that title. Period. As a human race we've sinned like crazy against God, but he still chooses to have a deep relationship with us. Even though we've turned our backs on him, He's freely given his life away for us to follow him. He was willing to die for all our sins and bore our iniquities to save us from ending up in hell forever. God's saved us from being cast into that eternal lake of fire. He's given us the right to join his family and to become close with him.
In conclusion, as Christians we need to be willing to stake our entire lives on God by giving him 110%. We can't give him a half-hearted approach. If we give only fifty percent of our potential, God can only use that fifty percent of what you give him. If we don't solely give God all of our lives we'll, be reduced to nothing in life before we realize we have a problem or that we don't trust God enough. God's love for us is unreserved and unrestrained. His love for us is truly wild and uncontained for us. He's so crazy about us that it's extremely hard for the human mind to even comprehend God's immeasurable love for us. He died for us to have eternal life with Jesus Christ we can never start to process the feelings God has for us. All we can do is accept this reckless love & let it change us.